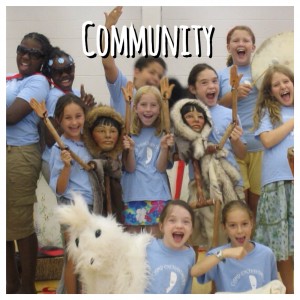 This value takes two forms in Enchantment's activities. One is our conscious and continuing attempt to serve the Greater Philadelphia community. The other is our effort to build community by our actions. At Enchantment, we make every effort to reach out to the most underserved people in Philadelphia – the disabled, the elderly, those for whom English is a second language, the underserved and the poor. We do this in partnership with community-based organizations that support these groups.
Not only do we work with and through community organizations, we try to create special communities of our own. A single performance, for example, brings together about 400 people, and for one hour of their lives they, in concert, experience a new reality and a timeless set of emotions. For the children of Philadelphia, 74% of whom live at or below the poverty level, we introduce them to a whole new world – that of the theater community, to inspire, uplift and entertain them in a way that gives them a shared experience and a new language to express their own feelings.
For the young actors of the city and its environs, we are creating opportunities for work and learning. One result is the development of a cadre of young actors who have performed for Enchantment and who love the experience. It is very gratifying to see them reaching out to other aspiring performers to work with them and teach them how to be an Enchantment actor. This, too, has created community.
Thea Diamond at the University of Pennsylvania has also said that high quality children's theater "affirms life and attempts to promote community and harmony." What better way to operate a theater company than to strengthen the community in which they live, to draw together families in uplifting shared experiences, and to work closely with schools to assure that the arts remain an important part of the education and development of our youngest citizens.