David Duncan passionately believed that the arts have the power to uplift and transform lives. Not only was he an accomplished artist, exhibiting his works in the United States and Europe, but he was also a savvy philanthropist. As such, he served on many Philadelphia nonprofit boards, including that of Enchantment Theatre Company.
---
---
The Challenge
David's dream for Enchantment was to establish a three-million-dollar fund to enhance the Company's artistic innovations, expand its ability to reach more children and families in the Philadelphia region, and strengthen its business structure, ensuring its sustainability for generations to come. Donate Now and join us in realizing this dream.
---
---
Our Vision
Create transformative theater experiences that inspire, educate and stimulate the creative spirit of children worldwide, and to ensure that each and every child within the Philadelphia region has an equal opportunity to learn and grow through this life changing art form.
Imagining an Enchanted Tomorrow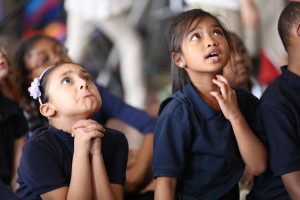 Enchantment Theatre Company was founded with the vision of creating imaginative, magical theater works for children and families. Based in the heart of Philadelphia, Enchantment has grown into a major theater company for young audiences, touching the lives of more than 120,000 children and their families annually through our international touring productions, Philadelphia main stage productions, in-school arts education programs and a new regional art access initiative, Enchantment Everywhere. Our works have been seen in theaters around the world and across the country ranging from sophisticated venues like Lincoln Center and The John F. Kennedy Center for the Performing Arts to rural high schools in North Dakota and Texas. Over 1.5 million children worldwide have experienced Enchantment since 2000.
Unique among Philadelphia arts organizations, Enchantment exists for young audiences – all of our resources are focused on children and everything we do honors, respects and nurtures their development and imaginations. We believe that quality theater can do more than just entertain. It can offer young audiences a real aesthetic experience that awakens in them feelings of wonder, empathy and joy. It can raise their aspirations as well as change the way they look at themselves and their futures.
We accomplish this by drawing on great theatrical traditions from around the world—from the Bunraku theater of Japan, to the shadow puppets of Indonesia, from Italy's commedia dell'arte to French mime and mask theater. We weave these elements together in compelling productions of beauty and wonder that inspire children to discover and explore their own creative potential.
Landis Smith, Jennifer Smith and Leslie Reidel have established this vision and laid the groundwork for the Company, whose contribution to children's theater is acknowledged across the country. Yet, despite our many accomplishments, Enchantment has only just begun to embrace its full potential. By putting in place the initiatives in the David Duncan Creative Fund, we will provide a robust foundation to ensure Enchantment's vibrant artistic future. Donate Now
---
Our Art
New Works for Children and Families Around the World
From the Company's earliest days, an adventurous, creative spirit has been central to its identity. Its focus is to make fairy tales, fables and other classic children stories fresh and vital; to craft distinctive interpretations through ensemble and physical theater based-methods, music, masks, magic and puppetry; to premiere new theater and symphonic works around the world; to support young artists; and to develop the potential of our youth.
Unfortunately, opportunities to learn about traditional stories and the arts in general are disappearing from children's lives. Therefore, Enchantment's challenge is to create innovative, compelling, original theater works that bring freshness and vitality to childhood stories by blending many art forms into a magical theater experience. Support of the David Duncan Creative Fund will create world premiere productions like our new Peter Rabbit™ Tales, which will travel to 50+ cities reaching well over 100,000 children on the East Coast and Canada in 2015-16 with plans to tour the West Coast, United Kingdom and beyond in 2016-17. It will enable Enchantment to sustain a singular level of artistic creativity that reaches across the world, giving access to the arts to millions as well as building the network of artists and designers needed to support our ambitious goals.
Our Community
Accessible and Affordable Theater for Regional Audiences
Enchantment matches its commitment to theater with an equally powerful commitment to arts access and education. In 2014, Enchantment launched Enchantment Everywhere in response to the near total elimination of arts education in public schools. Fearing the loss of an entire generation of artists, creators, thinkers and innovators, Enchantment made a promise to the community to plan, develop and tour professional portable productions in schools and neighborhoods throughout the region.
Through Enchantment Everywhere, the Company ensures that children across the region, regardless of their ability to pay, have access to innovative theater productions that inspire and spark their imaginations. By 2019, Enchantment hopes to serve more than 75,000 children, 4,000 teachers and 200 elementary schools including all elementary schools within Philadelphia School District. Support of the David Duncan Creative Fund will expand the reach of our work throughout the five-county region, develop Theater at the Core an online teacher resource that gives teachers a transformational set of tools and arts-based lesson plans to engage their students. It will unite families through our ETC PASS which invites inner-city children who have been inspired by our work to share and see our professional productions for FREE with their families, thus alleviating barriers for participation in the arts.
Our Children
In-Depth Arts Learning Opportunities for Philadelphia Schools
Since 2001, Enchantment has not only been dedicated to bringing inspired theater to Philadelphia's children, it has also brought in-depth arts learning into their classrooms. For children, the arts unlock the imagination and open new worlds of possibilities. When children learn how to use their bodies, voice and imagination to communicate ideas, emotions and intentions they explore big ideas, learn how to express themselves in creative ways and discover new passions. Enchantment Arts in Education programs breathe life into curricula, create dynamic classrooms, produce engaged, active and creative young people and teach children that they too can be performers, creators, thinkers, leaders and visionaries.
Yet, equity in and access to an arts-rich education remains elusive for far too many children throughout Philadelphia and the region. Support of the David Duncan Creative Fund will sustain and advance our programs, ensuring that the arts are a part of children's education and development. It will expand the number of school partners, strengthen our current in-school residency programs, reestablish out-of-school arts experiences like Camp Enchantment and develop a Summer Intensive training laboratory for teaching artists and school teachers. Donate Now