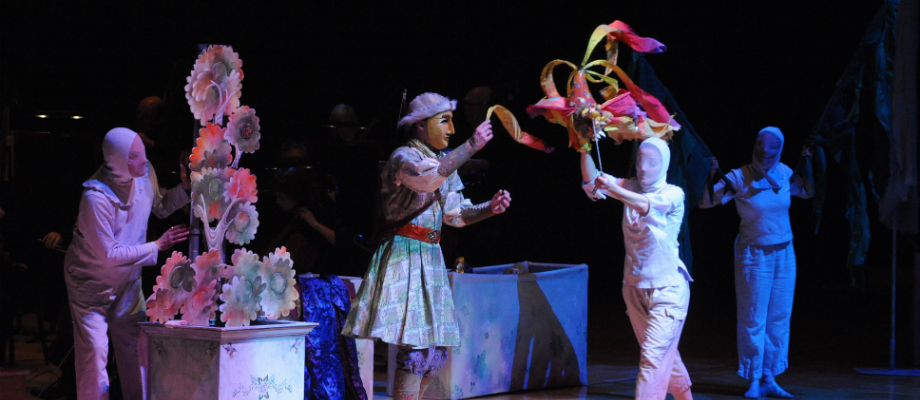 Scenario Adapted by William Leach
Directed by Leslie Reidel
Music by Igor Stravinsky
National Symphony Repertoire
Now available for booking
An enchanted tree bears golden apples and an evil magician conjures a terrible storm in this imaginative production about Prince Ivan and the fabulous Firebird. Meet a beautiful princess and her magical unicorn and witness Prince Ivan defeat the evil magician Kaschei The Deathless. With puppets, masks and magic, Enchantment Theatre Company presents the classic Russian tale The Firebird set to the evocative music of Igor Stravinsky. Available for engagements with symphony orchestras.
Recommended for ages 5 and up.
Running time is approximately 40 minutes.

Bravo to all of you for this sparkling and unique conceptualization of a great work of music!

-Maestro Luis Biava, The Philadelphia Orchestra

I am a retired Philadelphia School teacher who many years ago brought my students to see Enchantment Theatre's production of the Firebird Suite with the Philadelphia Orchestra. Last night I attended [a concert] of the Firebird Suite complete with puppets and dancers from South Africa.  I spent the whole night thinking back to your performance.  With…good artistic decisions you were able to visually enhance the audience's understanding of the story and music. How amazing that your comparatively small production held up so well after so many years. Congratulations and keep doing what you do so well!

-Ilene B.
Visit our Presenters page for promotional and technical materials.
To book our Symphonic productions contact Landis Smith at 267-481-0108 or landis@enchantmenttheatre.org