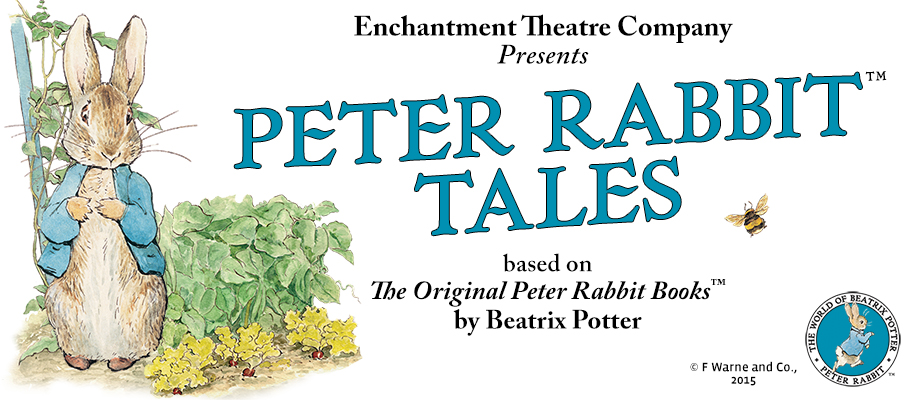 ---
North American Tour 2015-2017
---
North American Audiences –
Thank you for welcoming us to your communities throughout the 2015-2016 and 2016-2017 touring seasons.
Philly Audiences –
Thank you for joining us for the Philadelphia premiere December 2015 at the Arts Bank Theater.

All Audiences –
Visit our Discover page to learn more about the show!
"Once upon a time there were four little Rabbits, and their names were – Flopsy, Mopsy, Cotton-tail and Peter…." These famous opening lines of "The Tale of Peter Rabbit" have enchanted young audiences for over one hundred years with the exploits of a charming hero, who, going against his mother's wishes, has adventures (and misadventures) in Mr. McGregor's garden. Beatrix Potter created an instant classic with the little blue-coated rabbit who we recognize as both boy and rabbit, wild and civilized, and who has become an icon of childhood since he first hopped out of the pages of a story book and into children's hearts. Now Enchantment Theatre Company is delighted to collaborate with Frederick Warne & Co. and Penguin Books UK to present the authorized theatrical version of Peter Rabbit™ Tales.
Meet Peter Rabbit and Benjamin Bunny, Beatrix Potter's beloved characters, as they escape from Mr. McGregor, outfox Mr. Tod and rescue the Flopsy Bunnies from the disagreeable badger, Tommy Brock. When Benjamin's children disappear, he goes to his cousin, Peter Rabbit, to help him find the bunnies. But Peter thinks he's had quite enough of adventure, remembering his youthful escapades in Mr. McGregor's garden. As the cousins reminisce about their past adventures, their friends – Squirrel Nutkin, Mrs. Tiggy-Winkle, Jemima Puddle-duck and Mrs. Tittlemouse – gather to encourage Peter on this one last quest.
In celebration of Beatrix Potter's 150th birthday anniversary, Enchantment Theatre brings her captivating stories to life. Using fantastic masks, whimsical puppets, gorgeous scenery and original music, the magical, marvelous World of Beatrix Potter™ comes alive on stage.
By arrangement with Frederick Warne & Co. for a 2015-2016 premiere.
Recommended for Pre-K through grade 4, ages 3-9.
Running time is approximately 60 minutes.
Let me begin by saying Peter was the third production from Enchantment Theatre that we have had in the theater since I have been here. From a presenter's point of view, I
admire the way your company blends music, dance and theater into each high quality presentation. For Peter I thought the sets, costumes, and masks were exquisite. I
have had very positive feedback from the schools and both audiences were captured by the production… I find the Enchantment Theatre Company consistently produces
some of the highest quality theater for children that I have ever seen.

–John Healey, Executive Theater Manager, Weinberg Center for the Arts, Frederick, MD

Presenters…
To book our Theater productions contact Barbara Simon at Brad Simon Organization: 212-730-2132  or barbara@bsoinc.com
Visit here for access to approved marketing materials. For Presenters only.
Access our Press Room.