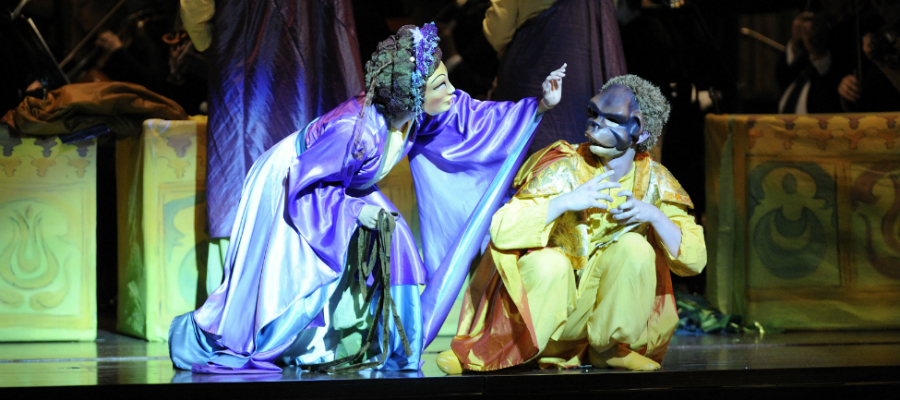 Adapted by Jennifer Blatchley Smith, Landis Smith & Leslie Reidel
Directed by Leslie Reidel
Music by Nikolai Rimsky-Korsakov
National Symphony Repertoire
Now available for booking
Join Scheherazade, our storyteller heroine, and her cast of fabulous characters: sail on Sinbad's ship to exotic lands; battle a giant dragon with the Kalandar Prince; discover Aladdin's lamp and the surprises hidden inside. Through her marvelous tales, Scheherazade takes her Sultan on a journey of self-discovery, experiencing the kindness of strangers, the triumph of good over evil and the miracle of forgiveness and love. The Sultan is healed and his kingdom is saved. Set to evocative music of Rimsky-Korsakov, with stunning costumes, spellbinding magic and spectacular puppets, Enchantment Theatre Company brings these captivating tales to life as never seen before.
Enchantment Theatre adds a beautiful visual narrative to Scheherazade, Rimsky-Korsakov's stirring orchestral music. The audience was mesmerized by both.

– Joan Katz Napoli, The Cleveland Orchestra
Visit our Presenters page for promotional and technical materials.
To book our Symphonic productions contact Landis Smith at 267-481-0108 or landis@enchantmenttheatre.org