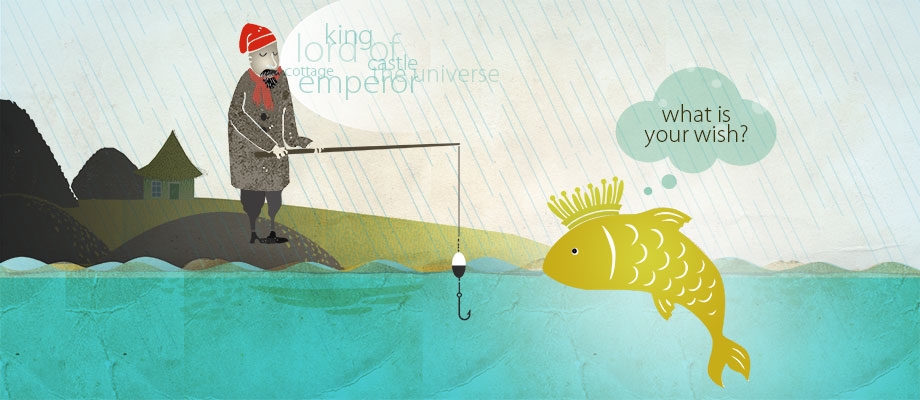 Our first Enchantment Everywhere production, The Fisherman and the Flounder, is back! Book a performance in your school or community venue for March, May, and June 2018.
Upcoming Public Show
Sunday, March 18
2:00pm
Free Library of Philadelphia
1901 Vine St
About the Show
In Enchantment's telling of this classic Grimm fairy tale, a fisherman and his family live in a tiny hut by the sea. One day the fisherman catches a golden flounder who tells him that he's really an enchanted prince. The flounder begs to be set free and promises to give the fisherman whatever he wishes. The fisherman is amazed and releases the flounder without making a wish. When he tells his wife the story, she asks her husband to return to the flounder and ask for a cottage to replace their tiny hut. The flounder does her bidding and the family is delighted with their new home.
Soon the wife tires of the cottage and asks for a castle. As the story continues her wishes become more and more grandiose as she demands to be king and then emperor. When she finally wishes to be lord of the universe, the fisherman finds a way to restore his family to their true happiness and transform the magic flounder as well.
With expressive masks, life-size puppets, original music, and imaginative scenic effects, Enchantment brings this beloved tale to life in its uniquely magical way!
Curriculum Connections
Classic Literature, Language Arts, Inductive Reasoning from Observation of Non-Verbal Language, Justice and Forgiveness, Transformative Power of Loving Relationships
Download a copy of our Flounder Study Guide and Student Survey
---
Interested in bringing Enchantment Everywhere to your neighborhood or school?  Contact sara@enchantmenttheatre.org or call 215-496-9160.
What is Enchantment Everywhere? Learn more here.
Also, learn about our In-School Workshops and Residencies!