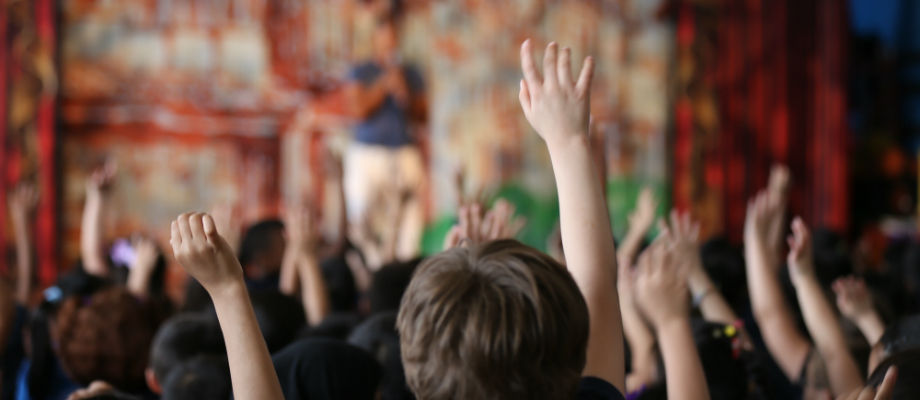 Looking for something to do with your children/grandchildren that is enlightening, engaging and exciting?  Look no further –  Enchantment Theatre Company creates interactive experiences that ignite imaginations everywhere in the Philadelphia region.
Enchantment Everywhere
Enchantment Everywhere is our regional touring program that brings portable productions directly to local communities of children and families. Our first three Enchantment Everywhere shows were the classic Grimm tales The Fisherman and the Flounder and The Brave Little Tailor, and a new take on the classic Beauty and the Beast tale, The Beast in the Bayou.
The Bremen Town Musicians is our newest show, now available to tour this spring of 2017, and YOU can be the one to bring it to your community. Find out how.
Holiday Production
For the past three Decembers Enchantment brought to life a major production for our Philadelphia audience, Peter Rabbit™ Tales (2015), The Snow Queen (2014), and Aladdin and Other Enchanting Tales (2013). In addition to public performances throughout the month, we offered student matinees specifically for local school group field trips.
We brought 4 children: 4, 5, 8 and 11. All the children were intensely riveted on the play for its entirety. It is difficult today to find children's theater that is so filled with creative imagination and attention to meaning in the story telling.  You treated children with respect for their intelligence and imagination. Lighting, costumes, sets, music and movement were all integrated to keep all of us engaged….  Thank you, thank you.

– Joanne K., Philadelphia patron, Aladdin and Other Enchanting Tales.
In 2015, we were happy to present our new production of Peter Rabbit™ Tales, which ran at the Arts Bank Theater December 11 through January 3 and included our popular post-show Enchanted Family Workshops, and we also received some extremely positive press! You can read about it on Phindie, Mommy Call, Hipster Henry, philly.com, and DCMetroTheaterArts.
This year (2016), we will not be presenting a mainstage holiday production. We know this is disappointing news for Enchantment families throughout the region, but we are looking forward to focusing our resources on our Enchantment Everywhere program, which reaches many more children and families each year, thereby helping us achieve our mission! Keep an eye out for announcements as we book our annual spring and fall Enchantment Everywhere regional tours. Though we visit many schools on these tours, we plan to book public performances at local community venues as well.