Book a 2017-2018 date now – The Bremen Town Musicians is our fall regional touring production, and The Fisherman and the Flounder is available for spring 2018.
What is Enchantment Everywhere?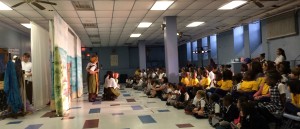 Arts education is often under-funded, if not completely non-existent in schools. Many school districts have removed field trips from their students' educational experiences. Because of this climate, children often have little exposure to the arts.
Enchantment Everywhere fills this void. Through the Enchantment Everywhere program, we bring completely portable theatrical works directly to local venues, community centers and educational institutions – anywhere with a community of children. An Enchantment production introduces a variety of arts (dance, music, magic, puppetry, pantomime and visual arts) in one engaging and magical experience. Enchantment Everywhere provides access to this experience at a cost much lower than that of a typical field trip to a theater. We even offer assistance for schools with dire financial need.
Many, many thanks for the absolutely wonderful, imaginative production of The Fisherman and the Flounder. Our students don't often have these opportunities to experience the arts, so we are truly thankful! Not only did you introduce the arts to our students, but you made a real impact on their lives. Our youngest classes even made a 'treasure box' of donated toys to be delivered next week to shelters to children who have less. Can you believe that? Talk about impact. Thank you again for adding color into their lives, the wonderful entertainment, the charming characters and the reminder of a very important lesson.

–  Rainbow Elementary School, Coatesville School District
What are the productions like?
Show running time is approximately 35 minutes + 10 minutes for questions & answers
Recommended for ages 5–10
Fee: $550 for one performance, $850 for two performances. Every bit counts in helping Enchantment pay it forward! Every venue that is able to raise additional funds helps Enchantment perform for an underserved school that could not otherwise afford the experience.
Pay-What-You-Can Shows: In spring 2018, we will book two weeks of Pay-What-You-Can performances. Eligibility is determined by application.
We can perform in lots of different types of community venues: libraries, museums, arboretums, etc. If you want to bring the show to your community, suggest a venue!
Have questions about how to bring Enchantment Everywhere to your school or neighborhood? Contact Sara at sara@enchantmenttheatre.org.
Have you hosted an Enchantment Everywhere show?
If so, we would love your feedback so we can continuously improve this program. Please take a few minutes to complete this survey.
---
This project has been made possible with the special support of the Independence Foundation, Victory Foundation, Connelly Foundation, 1675 Foundation and NBCUniversal Foundation's 21st Century Solutions 2014 Grant.
Production History
Also, learn more about our In-School Workshops and Residencies!